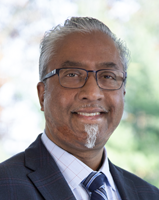 Vice President, Quality Assurance
Asif Mughal is responsible for all US Quality Assurance Operations.
Asif has over 25 years' experience managing quality assurance operations in the pharmaceutical industry. Prior to joining Ferring in 2021, he was vice president of quality at Neos Therapeutics. He began his career at Rhône-Poulenc Rorer and over the course of his career, held positions of increasing responsibility at BioPharm Incorporated, GlaxoSmithKline, Schering-Plough, EMD Chemicals, West-Ward Pharmaceuticals, and Neos Therapeutics.
Asif holds a Bachelor of Science in chemistry from Temple University in Philadelphia, PA.